Meryl McMaster: Confluence
January 18 – March 15, 2018
Main Gallery
Artist: Meryl McMaster
Curator: Heather Anderson
Produced by Carleton University Art Gallery, Ottawa
Meryl McMaster has been garnering praise across Canada for her explorations of identity, representation, storytelling, and the environment through photographic self-portraiture. This touring exhibition features McMaster's newest body of work and selections from earlier series.
Her potent, mysterious photographs explore the fluid domain of identity, and the possibilities for examining and revisioning the self and its representation. Placing her body centrally in front of the camera, McMaster transforms her appearance, whether by layering photographic images onto her body or through elaborate costumes and props she creates and inhabits as alter egos, solitary in the landscape.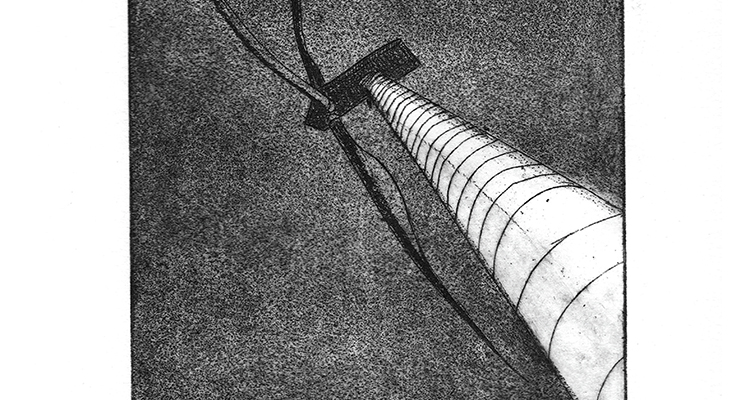 Image: Michelle Sylvestre, Tilting, 2017.
You Are Here: art + people = x
January 5 – February 23, 2018
Helen Christou Gallery
Artists: Various Lethbridge Community Artists
Curators: Maria Madacky, Kirsten Meiszinger, Josephine Mills
Continuing our annual art + people = x series, this exhibition challenged artists to think about their environment. This year the project ties in with You Are Here, a series of exhibitions, workshops, performances, and presentations designed to invite a diversity of people in Southern Alberta to find new ways to think about the future of their environment. Following up exhibitions at the gallery by Jennifer Wanner, Ed Pien, and Karin van Dam as well as a public engagement project by Lisa Hirmer from DodoLab, artists and students were invited to respond to environmental problems or opportunities facing the community and the world. Artists were welcomed to explore the theme in a variety of ways from the idyllic view of nature to the dystopic destruction of resources, and the individual responses cover or include a wide range of works.