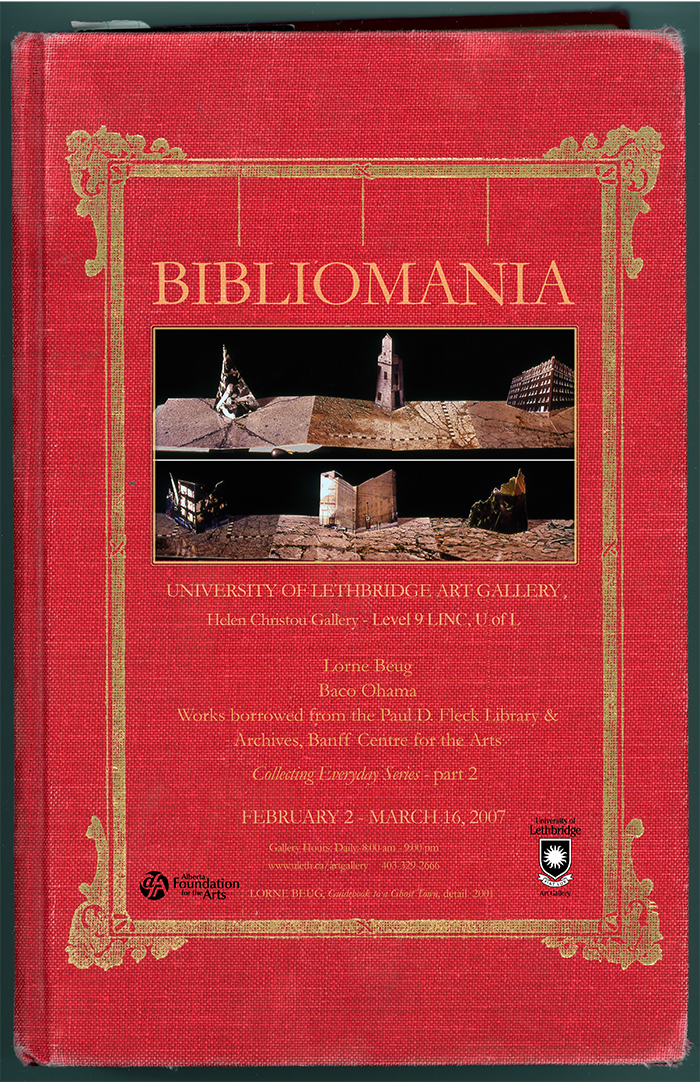 Bibliomania
Part of the Collecting Everyday Series
Helen Christou Gallery
BIBLIOMANIA
The plants and animals of Madison Square Park might be considered so common they scarcely warrant a second look. But their existence should be cause for marvel. They have adapted to life in a challenging and dangerous habitat, a six-acre island of dirt, grass, plants, and trees cut off from intensely crowded avenues and streets. And natural histories of flora and fauna that survive here – the pigeon, the squirrel, the elm tree, and the rat – are fascinating, complicated and ever-evolving.
– Mark Dion, "Field Guide to the Wildlife of Madison Square Park"
Recently there has been a revival of interest in artists' books and the latest attention seems connected in part to available technologies. The refinement of self-printing options makes many forms of bookworks accessible and affordable. As well, artists have a strong interest in collecting and using vanishing technologies – commonly used and little known dead-ends in the evolution of printing and reproduction; toys and quirky devices; as well as the labour intensive hand-made approaches.
This exhibition, Bibliomania, is part of the Collecting Everyday series presented by the U of L Art Gallery – a trio of exhibitions which focus on the contemporary interest in collecting as a working method and an integral aspect of public museum practices. The three separate yet inter-related components of the series explore the connection between collecting and the experience of ordinary moments in everyday life. Bibliomania features artists' bookworks that involve gathering the detritus of everyday life as well as those created as reference books to urban environments.
The artists included in this exhibition draw the viewer's attention to commonplace objects, images and practices which are taken for granted because they are encountered everyday. Mark Dion's introduction to his "Field Guide to the Wildlife of Madison Square Park," quoted above, sums up the effect these bookworks can have – they invite one to take that "second look" and consider the basic aspects that make up one's experience.
Regina artist Lorne Beug's hand-made books address the choices the citizens of Saskatchewan's cities make through the civic policies they support. In "Unfolding City A", pull tabs operate like wrecking balls – replacing features of old buildings with generic box stores and office towers – while in Guidebook to a Ghost Town, destroyed buildings around Regina still pop-up in their old locations.
The Collecting Everyday series continues with Found, currently on display in the main gallery on the 6th level of the Centre for the Arts until March 2, 2007. The series concludes with Collecting Collecting, an exhibition featuring works in public collections that are about the collecting process (opening in the main gallery and Helen Christou Gallery June 15, 2007).
I would like to thank the Paul D. Fleck Library & Archives at the Banff Centre for their loan of the books and James Rout for his assistance with this loan.
Josephine Mills
Director/Curator of the University of Lethbridge Art Gallery